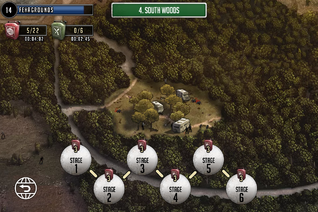 The South Woods is the fourth area in the game. It has 6 stages.
4.5 is also a good level to find heaps of Strong Enemy Survivors, to Complete the Daily Missions Section
South Woods
Edit
Story Choices
Edit
(Before Stage 1)
We catch up to Garrett and Sandy. If you chose to kill Sandy, you find out Garrett didn't kill Sandy. Group moves on.
(After Stage 2)
After the Fuel Depot crew attacks you, they wish to stop fighting and join up. Mitchell Jr (if alive) is with them. Darius doesn't trust them. Garrett says that Sandy is still too weak to move fast. Margaret (The leader of the Fuel Depot group) tells us that they have a nurse.
---
1: Let the Fuel Depot group join usEdit
Sandy is dropped off with the nurse looking frightened and exhausted. The group soldier on with the Fuel Depot survivors struggling to keep up with the injured Sandy.
Lilly and Darius are alert and wary that the Fuel Depot survivors are slowing them down on purpose. Ruby (Margaret's daughter) thanks our group, saying that "We were all out of food". Margaret is angry that Ruby told us. Darius is furious and calls Garrett over to help 'take them out'.
(Fight Enemy Survivors in Stage 3)
You receive Fuel Depot Wrench and Sunglasses x1 at the end of the area.
2: Leave the Fuel Depot group on their ownEdit
Fuel Depot survivors leave us. (Need more info on this choice)
(Fight Walkers] in Stage 3)
You receive Fuel Depot Pipe and Running Shoes at the end of the area.
Area Completion Rewards
Edit
Mission Rewards: XP x 310, Materials x 3,100, Food x 3,100, Fuel Depot Wrench and Sunglasses x1 OR Fuel Depot Pipe and (maybe something else?)